Survey Results
We asked your help in determining the best way to get News and Tips to you. The response to our survey was tremendous and here are the averaged results (1 is least useful, 10 is most useful):
8.2 - email notice of news is the winner.
6.5 - home page posting of daily news came second.
5.5 - printed news came third, but was very important to a few people.
1.5 - average number of times per month you visited our site to check news.
So we will continue to post the newsletter on our web site and send email notice to you with a clickable link. However, we will also send a printed summary, since many people found that useful. To simplify the process and make it more consistent, we are going to try a newsletter every other month. (both email version and printed version).
History of the HP 3000 "Spectrum"
When we wrote our book "HP 3000 Evolution" in 2003, we included Chris Edler's history of the Classic 3000. After the initial development, the HP 3000 grew and prospered. From 1974 to 1984, HP continued to produce more powerful 3000 hardware running more capable software. Each new model was compatible with the previous version and a joy to install.
But the pressure was on to switch to a 32-bit architecture, as other manufacturers were doing. So in 1984 HP announced a radical change: a new 32-bit hardware for the 3000. The project was code-named Spectrum.
Homesteading and MPE Tips
Customer Feedback on Our Newsletter
Dennis Barnes, Directory of IT at Wharton County Junior College writes: Keep up the good work. I wish some of our other vendors kept us informed this well
Here is an excellent article by Ron Seybold of The 3000 Newswire about Cognos' plans for Powerhouse improvements and migration.
John Burke has posted his Newswire column with useful information about updating your server firmware without an HP technician, performance issues in serial scans, how to delete 70,000 files (answer: in reverse alphabetical order), and much more.
John Burke has posted his "Hidden Value" column from the November issue of The 3000 Newswire. This column is packed with useful info on running a 3000 datacenter! Essential reading.
Qedit Tips
Edit Many Files At the Same Time in Regular Qedit
When Qedit was originally written, its ability to edit one file at a time and make it lightning fast to switch between files was more than adequate. That is how we came up with the space-saving, instant open Qedit workfile that allows you to do Open XXX, edit, Open YYY, edit, then Open * to switch between the files in a second. But when we wrote Qedit for Windows, we needed multiple files in edit windows at the same time. So we added a similar feature to host-based Qedit.
When Qedit for Windows has problems, it really helps us analyze them if we have a trace of what happened. This web page shows how to enable tracing in Qedit for Windows and what to do with the trace files.
Qedit Version 5.4.11 Pre-release
An improved version of host-based Qedit (and server Qedit) is available for download on our web page. Major improvements include preservation of trailing spaces and Set Varsub On to do variable substitution.
Read about the new variable substitution feature in the latest Qedit pre-release (version 5.4.11), as well as improvements to the handling of trailing spaces on lines.
Qedit: All About Line Numbers!
A new application note on handling source files with "line numbers" (i.e., columns reserved for a collating sequence number): different kinds of linenumbers, invalid line numbers, how to fix line numbers, and much more.
Qedit for Windows 5.4.11 Pre-release
Includes improvements to rectangular selections.
Suprtool Tips
Easier Migration Path for Suprtool on HP-UX
Recently Lee Tsai from iMAXSoft approached us about generating a version of Suprtool for HP-UX that utilized their series of call conversion libraries called OpenTURBO. Lee's tools and utilities can take an Image database and convert it to Oracle quite painlessly.
Using their libraries, which map TurboImage calls into appropriate Oracle calls, Suprtool is able to access ORACLE databases using the standard IMAGE/Eloquence commands (Base, Get, Delete, etc.), instead of through Suprtool's special Oracle commands (Open, Select, Add). Without OpenTURBO, some Suprtool functions are not available on Oracle (Update, Delete). This means little or no changes to your Suprtool scripts when migrating from MPE(TurboImage) to HP-UX(Oracle).
So far we have done limited testing of Suprtool with OpenTurbo, but we are encouraged by the results.
If you are interested in trying this version of Suprtool with OpenTURBO, please e-mail Neil Armstrong at neil@robelle.com. To contact Lee Tsai at iMaxsoft about this product, please e-mail: lee@imaxsoft.com
$Edit, $Split and a Whole Lot More
Suprtool 4.7.10 has now been released and is available as a pre-release. This pre-release is chock full of bug fixes and enhancements that are sure to help homesteaders and migrators alike.
First off, Suprtool now has an edit-mask feature, which allows output fields to be formatted using COBOL-like edit-masks. Another key feature is that the Suprtool $split function can now be used up to 255 times in a single task. This means that you can now manually parse out fields from a typical Import file, such as PRN format. You can request a copy by filling out the form on our web site.
Suprtool Html Help Files Are Back!
We finally found new PC software to generate the Html Help version of the manual for Suprtool version 4.7.02. Read the explanation and download the new help files.
HP-UX and Migration Planning
Company That Migrates Powerhouse Aps
CORE is a company in Ottawa that migrates Powerhouse applications to modern platforms using a combination of automated tools and manual processes: www.coremigration.com [ discovered via an article on CORE's migration philosophy in The 3000 Newswire which is available online].
Jan 14: George Stachnik Webinar
HP is hosting another web seminar on the transition an HP e3000 to the Microsoft Platform on Wednesday, January 14 from 8:30 a.m. - 10 a.m. PST. Features ASAP Software, who are transitioning their HP e3000 platform to Microsoft .
Links/ Resources/ Industry News
Davida in Chicago has 19 years experience programming and systems design for HP 3000, with knowledge of COBOL, IMAGE, Powerhouse, MPEX, AMISYS, and of course, our products. She writes: "Suprtool is a great tool for data extraction and Qedit is a great full screen editor for COBOL code and jobstreams."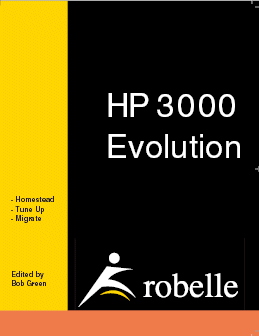 From Alan Yeo at Screenjet.com in their customer newsletter: "New HP3000 Reference Book." Just when you thought that the end must be in sight for new books on the HP 3000. Published just in time for HP World was a new book HP 3000 Evolution. Edited by Bob Green from Robelle, this book is crammed full of new material from many of the leading authorities on the HP 3000, and links to many sources of information. The book has sections on Tuning your HP 3000, Planning a Homesteading Strategy, and a wealth of information on Migration Planning and Techniques.
Daniel lives in Northern California and has over 20 years experience with Suprtool, Qedit, Cognos and COBOL.
Consultant: The SoftWorks, Inc.
Rafael Andrade is a consultant with extensive experience with the HP 3000, Suprtool, Qedit, Powerhouse, MPEX and AMISYS.