---
What's Up, DOCumentation? 1998 # 4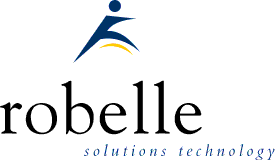 September 1998

From:
Robert M. Green, President
David J. Greer, Vice President
Neil Armstrong, Editor pro tem
To: Users of Robelle Software

Re: News of the HP 3000 and of HP-UX, 1998 #4

---
Shortly before the
HP World '98
conference, Hewlett-Packard announced plans to move HP 3000 servers to IA-64 (Intel Architecture, 64-bit). Many HP 3000 users and solution providers seemed very pleased with the commitment to IA-64 and are already on board with HP, planning to port their solutions on the new 3000 line.
The press release states:

    Hewlett-Packard Company today announced that it plans to transition the
    HP 3000 server line to IA-64 (Intel Architecture, 64-bit). HP intends to
    leverage its co-development with Intel of EPIC (Explicitly Parallel
    Instruction Computing), the technology foundation for IA-64, to ensure a
    smooth transition for all HP 3000 customers.

Even more encouraging was news that HP would help provide a smooth transition plan and continue to develop PA-RISC systems in conjunction with the first IA-64 systems.
HP also stated they would be refocusing their business strategy on five key vertical markets: mail order, health care, airlines, manufacturing and credit unions.
To emphasize their commitment to the new platform, HP has been giving out T-shirts with the slogan:

IA-64: The Sequel
The Sequel reference suggests that this is a port to a new architecture, similar to the Classic to PA-RISC port done in the 80s.
The IA-64 announcement certainly makes the future of the HP 3000 look bright.
[Neil Armstrong]
---
Want to learn more about
Suprtool
? The next training class at Robelle's head office will be

    October 15 - 16

To arrange training at Robelle or your site, call us at 1-888-762-3553.
[Mike Shumko]
---
When I joined the Robelle team back in June of this year, all I heard about was the HP World '98 Conference & Expo. Everyone talked about how it was the biggest HP tradeshow, gathering thousands of IT professionals and hundreds of vendors, Channel Partners and ISVs.
Even though I was the new "kid" in the office, I was given the opportunity to help plan for and attend the show. Although several of you asked about the Robelle people you regularly speak to-like Hans, Mike, Paul, Ken, Dave, Kerry and Rosemary-alas, you received "only" me instead. (How should I take that...?:-))
Everyone was excited about this event, and Robelle was no exception. Our booth was always a movin' an' a shakin' with our in-booth seminars, one-to- one demos, prize draw, cake & coffee and old friends stopping to say "hello." The seminars highlighted new enhancements to Qedit (long lines), Suprtool ($stddate), and Qedit for Windows (scripting). The one-to-one demos provided in-depth training to current users as well as people seeing it for the first time.
Attending HP World gave me the opportunity to meet and talk with many HP 3000 and HP 9000 enthusiasts, and to learn about the particular concerns of the 3000 community. I heard a wide range of ideas about how businesses are coping with their Y2K projects, as well as insights on how current customers are using our products in their projects.
My hat goes off to the organizers of this year's events. From Dave Barry's hilarious Key Note Address, to the Welcome Reception, to the main HP World Reception, all events were well attended and enjoyable.
Now that HP World is over, I expect that everyone is back to their regular routine. Thanks to this experience I have gone from being an industry novice to being aware of current needs and goals of HP users. I will have fond memories of my first HP World conference, but nothing may ever top the sight of seeing some Robelle staff and clients hopping on a Harley Davidson motorcycle for a picture and sharing the dream of winning it-you know who you are!
[Tory Kilgour]
---
Once again we held our popular prize draw and cake & coffee get together on the show floor at HP World '98. Here are the winners:
Third prize: Master Photos Studio
Roger Peacock of Science Applications Int. in Oakridge, TN
Second prize: A Snappy Video Snapshot
Kevin West of Cardinal Health in Folsom, CA
Grand prize: Palm Pilot Professional
Roy Bybee of Infotrust in Salt Lake City, UT
You can see pictures of the prize winners and coffee get together on [Marie Reimer]
---
If you've called Robelle lately for a product demo or information about Qedit for Windows, you may have spoken to our newest staff member, Tory Kilgour. Tory started in June of this year and is already helping the sales team provide demos and assistance to customers.
Tory recently arrived in Vancouver from her home town of Toronto, Ontario, but we decided not to hold that against her. (For the geographically challenged, Toronto is north of Detroit and is the city that the rest of Canada loves to trash.)
Tory moved here to join family and friends. She really appreciates the West Coast terrain, especially the Mt. Whistler area for its hiking and mountain climbing. Tory is also on the lookout for a local baseball league and has hopes of being drafted by the Yankees. One suggestion Tory: don't quit your day job.
[Paul Gobes]
---
I noticed that when I used my network connection from home, my PC, which runs Windows 95, would take a long time to shut down. When I used dial-up networking, my PC logged on to an NT domain and connected to a remote disc. When I shut down my PC, it would take up to a minute.
After some experimenting, I found that shutting down my PC was much faster if I first disconnected from the network drives by executing this command:

    net use * /delete


To automate this step, I put the command in a batch file on my desktop and called it netstop.bat. Now I click on the Netstop icon before shutting down. It takes only a second to execute.
I also read that changing the Network configuration helps (in "File and printer sharing for Microsoft Networks", change the value of the item called "LM Announce" to "No"), but I have not tested this myself.
[Mike Shumko]
---
In the course of any given workday at Robelle, I edit two files: my diary file, which contains a point form list of what I am currently working on, and the Suprtool docnotes file, which contains a point form list of enhancements/bug fixes being made to Suprtool.
Every morning I had to manually open these two files, but now the Recent Files list gives me quick access to files that are used everyday.
Qedit for Windows 4.6.11 saves the name of the 16 most recently accessed files. Now I can open one of these files using the Recent Files command in the File menu. The file names are stored as fully-qualified names. For local files, the drive letter and the complete path is displayed.
Host files are also fully-qualified using the appropriate syntax for the host on which they reside. They are prefixed by the connection name. Qedit also keeps track of the options used at the last open (i.e., Read only or Force unnumbered).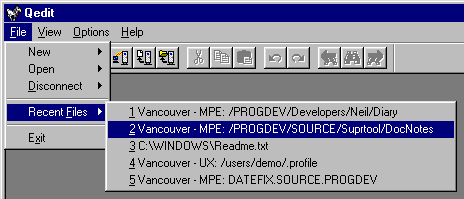 Accessing the Recent Files list in Qedit
[Neil Armstrong]
---
Printdoc is Robelle's utility program for HP 3000 customers who wish to print their own Robelle product manuals and change notices. By default, our manuals are formatted to print on letter-size paper (8.5" x 11", the standard North American size).
For customers outside of North America who wish to print on A4 paper, you can set the OUTA4 Job Control Word before running Printdoc.

    :setjcw outa4=1
    :run printdoc.pub.robelle

[Dave Lo]
---
We thank Dave Long of Brethren Mutual for the following Y2K tip.
For the last year and a half, I have been working on the Y2K problem within a team in our organization. In my most recent project, I was faced with a huge VPLUS formsfile that had many "processing specifications" (field edits) embedded in the form's fields such as:

    IF SFPOL_EFF_DATE LT SFRATE_B_DATE THEN

    LE 500000 "Must not exceed 500,000 before 10/01/90!"

To avoid searching through every field by using "next" in Formspec, I did the following:
1. In Formspec, list the form.
2. In Qedit use :Showout then Text in the spool file from the listed form.
    /:SHOWOUT
    JOB#     JOB           OWNER   DFID     NAME      PR CO F  LINES STA
    #S175    DAVE.DAVEACCT         #O1363   FORMLIST  8  1    17042 RDY
    /T O1363.OUT.HPSPOOL
    'Language' is now DATA
    Note: LENGTH set to 256

3. List all the occurrences of each date field.
    /L "SFPOL_EFF_DATE" (upshift)
    41    Save Field: SFPOL_EFF_DATE  Length: 6  Data Type: IG
    1754      IF SFPOL_EFF_DATE GE SF_950401_DATE THEN
    1757      IF SFPOL_EFF_DATE LT SF_950401_DATE THEN
    1983      IF SFPOL_EFF_DATE GE SF_0691_DATEYMD THEN
    2011      IF SFPOL_EFF_DATE LT SF_0692_DATEYMD THEN
    2021      IF SFPOL_EFF_DATE LT SF_0692_DATEYMD THEN

---
Featured in the May 1998 issue of
Dr. Dobbs' Journal
, an interesting article describes ways to expand a date field without increasing its size. Authors Robert Moore and Gregory Foley present compression as an alternative to the two popular approaches: expanding the date field or using date windowing logic. The article includes a number of innovative ways to store a wide range of dates in six digits.
In one example, dates can be stored as CYYDDD, where C is the number of centuries elapsed since 1900, YY is the year of the century, and DDD is the day count in the year.
The full article, including the source code, is available at the Dr. Dobbs Web site
    http://www.ddj.com/ddj/1998/1998_05/index.htm
[Mike Shumko]
---
@Guard is a nifty Windows PC utility from WRQ that eliminates time-consuming, unnecessary elements from your Web surfing and enhances privacy. You can bypass ads, animated GIFs, and cookies to speed up the retrieval of Web pages. The result is your browser requests less data and each retrieval takes less time.
@Guard works by filtering codes from the HTML stream before your browser sees it. It's totally configurable and has an interactive learning mode in which it asks you what you want to do with certain elements as it encounters them. For example, if you are browsing a Web site that asks for cookies, you have four choices:
always block cookies to this site or domain
always send cookies to this site or domain
block the request just this one time
allow the request just this one time
A 60-day demo is available at
www.atguard.com
.
[Mike Shumko]
---
This is an excerpt of the full paper, available in the Robelle on-line library at
/library
. In addition to the collection of papers, the library also has back issues of
What's Up, DOCumentation?
, the
SMUG
encyclopedia of tips for HP users, and other useful references.
Create a Widely Accessible Web Site
How accessible is your Web site? As Web authors develop sites with more browser-specific features, fewer users can access these sites. Yet accessibility is both important and easy to achieve. Just keep in mind three basic principles.
Content comes first

Use techniques and features that degrade gracefully

Provide alternatives
On the Web, users don't read, they scan. To make your Web site more scannable,
Organize your material
Use meaningful highlights and headings
Three common reasons for scanning are an overload of information at the site, extended reading on computer monitors is not comfortable, and an Internet connection costs money to use.
Use Meaningful Links
The wording of hypertext links should be meaningful even without the surrounding text. An example of ineffective wording is: "click here for more information about our products," or "click here for technical support." Because Web users are familiar with selecting a link for more information, you don't need to give explicit directions. A list is a more effective way to present links. For example,
Products Information
Technical Support
Write Useful Alt Text
Writing useful alt text for images is just as important as including the alt text. Just as an image conveys information, the alt text should convey similar information. For example, [Graph of sales figures] is a typical alt text. A more meaningful version might be [Graph: sales have skyrocketed for 3 consecutive quarters; 16K].
Avoid Changing Font Colors and Sizes
Font settings that are legible on your system may be illegible on a different system, especially when you use smaller font sizes. Changing colors also affects accessibility. For example, say you change the text color to make text appear legible on top of a dark background. If the background is not loaded (because image loading is turned off), you might get bright yellow text or even white text on a white background. In many cases, custom fonts, sizes, and colors that represent heading levels reduce the site's accessibility. By using heading tags &lth1&gt, &lth2&gt etc. in conjunction with style sheets, you can improve accessibility.

[Dave Lo]
---

Robelle's Qedit for Windows team has been busy updating and enhancing Qedit for Windows. Every month a new version is released with new enhancements and fixes. You can now download the latest version of the Qedit for Windows client from our Web site.

Both the English and the French versions are available as a self-extracting executable file. Users downloading these files report problems with Netscape 4.0 Gold on NT 4.0, so we also provide a link to directly download the files with FTP.

You can reach our download page at

    /products/qwin/download.html

[Dave Lo]
---
At HP World the furor over IA-64 and all the other positive news almost completely overshadowed the MPE/iX Powerpatch (PP) 5 mid-August release, just days after the conference. Now available, the release includes the following new enhancements.
FTP Learns MPE
The very latest in FTP enhancements have been added to MPE/iX PP 5. One of the enhancements to FTP allows the transfer of the following types of non- standard files between two HP 3000 machines:
Privileged files (files with PRIV file code)
Circular files
Message files
RIO files
CM KSAM files
NM KSAM files
HP spool files
The file type is completely transparent to the user. The user need not specify the file type transferred. Spool files are transferred as fixed ASCII files. You cannot transfer the above file types to non-MPE systems, except for HP spool files which can be transferred as fixed ASCII files from an MPE to a non-MPE system. The client (FTP) and server (FTPSRVR) must be compatible to take advantage of this feature.

I found this particular feature useful when I mistakenly purged from our test machine the database that Suprtool uses to test Master Dataset eXpansion. I was rewriting some of the tests and went to our crash-and-burn test machine to copy the test database.

    File Transfer Protocol [A0008H30]
    220 HP ARPA FTP Server [A0009001]
    Connected to bluto.robelle.com
    Name(bob): neil/passwd,user.acct,suprmdx
    230 User logged on
    Remote system type is MPE/iX.
    ftp> mget @.suprmdx


Increased Limit of Jumbo Datasets
IMAGE/SQL has supported Jumbo datasets for a couple of years now. Until recently, Jumbo datasets were limited to 40 GB. TurboIMAGE version C.07.14 now doubles that limit to 80 GB. It is shipped with MPE/iX PP 5. Recently I traveled to the database lab to test Suprtool on a Jumbo dataset with 80 GB of data. Here are some of the results:

    SUPRTOOL/iX/Copyright Robelle Solutions Technology Inc. 1981-1998.
    (Version 4.1.52 Internal)  MON, JUL  6, 1998,  8:57 AM
    >base music,5,mgr
    >form sets

    Database: MUSIC.LARGEDB.TURBONM
    Set           Item                         Entry      Load    Entry
    Sets:         Num  Type  Count  Capacity   Count      Factor  Length  B/F
    ALBUMS        1    M     7      2000000    1000000    50%     51      30
    COMPOSERS     2    M     3      1000       7          1%      24      73
    SELECTIONS-A  3    A     1      2000000    1000000    50%     20      69
    SELECTIONS    4    D     6      402653160  364305240  90%     88      24
    LOG           5    D     5      1023       0          0%      58      31

    >get selections
    >if ComposerName = "Ludwig Beethoven"
    >out testout,link
    >exit

    IN=364305240, OUT=19173960. CPU-Sec=19102. Wall-Sec=21337. Wall-Min=355:37.


The 997/400 on which we were testing read through the 364 million entries in under six hours. These results were impressive considering it had taken about 7 days to load the database.

You can add this new feature to new databases by using $control Jumbo in DBSCHEMA. To enable the feature in existing databases, use third-party database tools such as DBGeneral (Bradmark) or Adager (Adager).

Suprtool supports these datasets in Suprtool version 4.1.52, now shipping as a pre-release.

[Neil Armstrong]
---
In the C.07.06 and higher version of IMAGE, or the version that was shipped with MPE/iX 5.5 Express 4, a new enhancement was added to improve the performance of the modification intrinsics DBPUT, DBDELETE and DBUPDATE.

Previously only one of these modification intrinsics could be executed at a time per database. With the Dependency Semaphore (DSEM) flag enabled, modification intrinsics can operate concurrently if the datasets being modified are not related.

To take advantage of the potential throughput increase you must enable the DSEM using DBUTIL because the default setting is disabled.

    ENABLE database FOR DSEM

The throughput gains you may experience solely depend on the physical structure of the database. Your throughput should increase if you have a lot of stand-alone masters and details. The increase in throughput will not be as high if your database has a lot of physically related datasets.

[Neil Armstrong]
---
HP recently announced a new format of documentation that will allow easy Web access to all of HP's documentation. The documentation Web site is at http://www.docs.hp.com. The documentation known as HP Instant Information will be available on CD-ROM.

Web ordering information currently lists how to obtain the HP-UX 10.x and 11.0 Information. Some MPE/iX manuals have been converted to this format and are available at the Web site, but more importantly, most of the recent Communicators are available, including the MPE/iX PP 5 release.

[Neil Armstrong]